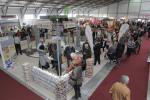 Dear Exhibitors of the FOR GARDEN Trade Fair,
We would like to express our thanks to all of you for this year's participation in the trade fair and especially for your carefully and elegantly prepared presentations which were a real decoration of this year's edition. We believe that this year's edition which achieved a large number of visitors has fulfilled your expectations and business intents. Since already now we will start thinking about the next year's edition, we will welcome your ideas and recommendations for how to support our common objective still more – to organise the trade fair as interesting as possible.
We are looking forward to meeting you in 2018 again.
Please remember to note the term of the next year's edition of the trade fair:
FOR GARDEN 2018
12th International Trade Fair for Garden Architecture, Furniture, Technology and Public Greenery
22–25 March 2018